How to get 5500$ by installing Counos Wallet?
By using Counos paper wallet and participating in 1000 CCA competition, that is worth more than 5500 dollars , take your chance to win and take the money. This article will show you the process.
First, you need to open an account , just like opening a bank account to enter the crypto world. For opening a bank account, you need to go to the bank, present your identification documents, and fill forms to get a bank card, account number and etc. After that, you can make deposits and use your account. Your account will remain safe and tamper-proof as long as you are the only person who has its information.
The Crypto world works like that; you create an account and will be given information like account number and password. The difference is that you don't need to refer to any organization for opening an account on this platform.
This is a process you can do by yourself. You will also need to create your own account and password because there is no unified organization for the crypto world. Exactly like passwords given by the banks, the crypto account passwords are required to be secure and complex. This information must be kept safe as well.
Nobody can steal your account by accessing your password or even your online account password if they don't reach your account number. Though in the crypto world, your account can be stolen, if thieves know your password, so it is crucial to keep your passwords safe.
In the crypto world, your account password will be private and your account number will be the public key.
Instructions to Create Private and Public Keys
Crypto-wallet is a way that will be making the creation of private and public keys very easy. This tool will create these keys, keeps them safe, and will show the balance. Crypto-wallet also can be used for making transitions. It will let you sign the transitions by your private key before you send them.
As you know now, keeping the crypto wallet safe is vital, because all of your account balance will be stolen if a security flaw exists in your crypto wallet.
Crypto wallets are categorized into the following groups by their security levels:
Internet wallets (web-based)

Mobile wallets

Hardware wallets

Paper wallets
It is necessary to emphasize that keeping private key safe is very important. Keep in mind that saving the private key online or on your mobile phone is not a good idea. But storing this key offline, like on a hardware wallet and paper wallet , makes it safer. It is recommended to keep this information written on a piece of paper rather than your mobile phone.
If you keep your private key in a written piece of paper and put it in your paper wallet, you can make sure that you have chosen the safest way. This is how you will be the only person who has access to your account.
Creating a Paper Wallet
Many websites provide solutions for making paper wallets, such as WalletGenerator . In order to enhance your security, you can receive a code from Counos GitHub , and then disconnect your computer from the internet and launch the index Html file. After that, pick the kind of cryptocurrency you have in mind for creating a wallet. On the next step, move your cursor aimlessly to create a totally random private key ( SECRET ) and public key ( SHARE ).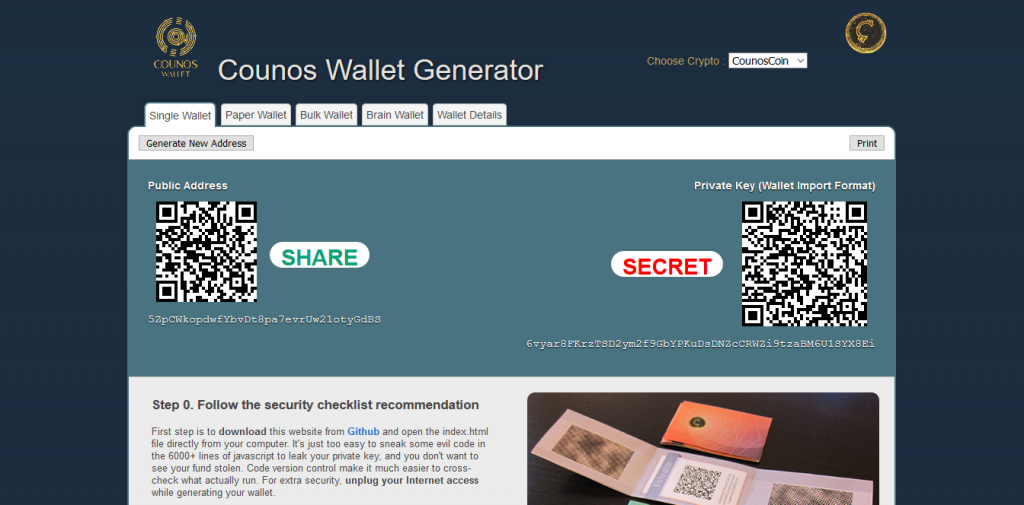 Then, copy the private key you have chosen, and by using the private key, open the Paper wallet tab. Now you see the paper wallet that you can make a print of it.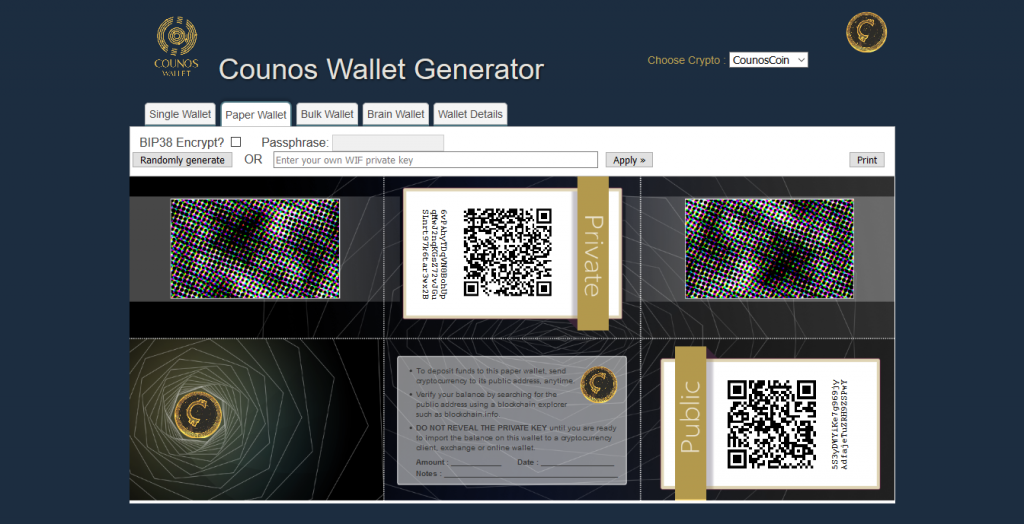 You need to keep the printed paper wallet someplace safe. Remember that by having the paper wallet information, anyone can scam your account.
Now, let's take a look at the ways you can use a paper wallet for transactions.
Making transactions by paper wallet
Regardless of the high-security level of paper wallets, it is more difficult to work with them than mobile wallets. You need to install the Counos Mobile Wallet on your cell phone to be able to make transactions via paper wallet.
After that, you can pick the kind of cryptocurrency you want. Now, push the Sweep Paper Wallet button and scan your private key. For doing that, you need to choose the scan QR code icon. Again, your paper wallet has reached a crypto wallpaper that makes it enable you to do the transactions. Since now, by using the SEND button, you can make transactions.
Counos Wallet Users can be winners
A breathtaking competition is waiting for Counos wallet users which has 1000 Counos Coins ( CCA ) prize, which worth 5870 U.S . dollars. A character from a private key will be announced by chance every day on Counos social media such as Instagram , LinkedIn , and Twitter . The private key is containing several letters and numbers. The person who is able to get all the characters in this private number will be the winner of 1000 CCA .
Actually, the 1000 CCA has stored in a Counos wallet account before and the first person who reaches the private key will get this cryptocurrency.
So, go to the Instagram page of Counos right now.
You can follow other Counos social media such as Reddit and Facebook and stay alert for the post regarding the competition. So go to Mobile Wallet and take your chance by making a private key. Who knows, maybe you will be the winner !